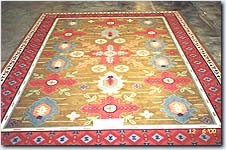 Global Hotel Supply represents Southeast Asia's leading carpet manufacturer, producing volume Axminster, Wilton, CYP, Broadloom Tufted, Pass Tufted, Hand Tufted and Fibre-Bonded carpets for stock and custom projects worldwide. We can provide sophisticated designs with almost no limit to the length of pattern repeat produced by the currently largest Axminster weaver outside the U.K., equipped with the latest electronic jacquard and spool looms.
Axminster carpets of Global Hotel Supply
We also offer CARPET DESIGN SERVICES to our customers. For its stringent quality control and excellent attention to detail during the production process our carpet manufacturer obtained ISO-9002 certification.
Please visit our Axminster carpet gallery.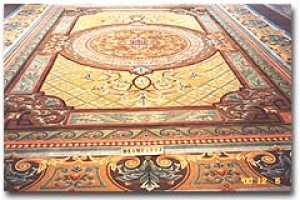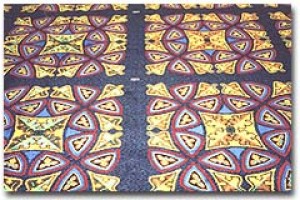 Please visit our Axminster carpet gallery.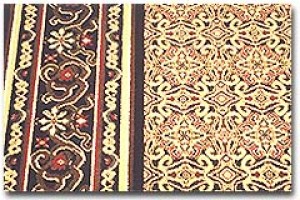 OUR AXMINSTER CARPETS ARE ISO-9002 CERTIFIED.

Lotus Gemstone AWN 9024

GENUINE WOVEN AXMINSTER WITH BORDER OPTIONS

AVAILABLE FROM STOCK
12' (366 cm) wide broadloom with options of coordinating decorative border
Runner 36" (914 mm) wide for use as a stair or corridor runner
Border 18" (457 mm) wide for use as borders

TECHNICAL INFORMATION

SPECIFICATION

IMPERIAL

METRIC

GENERAL INFORMATION

DYESTUFF USED:
Metal complex
and acid dye

COLOUR FASTNESS TO:
Light - BS 1006 5 or better
Shampooing - BS 1006 min. 4
Rubbing Dry - BS 1006 min. 4
Rubbing Wet - BS 1006 min. 4

FLAMMABILITY:

HOT METAL NUT:
Imperial has a low radius of effects of ignition when tested to BS4790

Burn time: 92 seconds
Max. radius of burn: 20 mm

METHENAMINE PILL TEST:
Burn time: 92 seconds
Max. radius of burn: 9 mm

This indicates a pass (BS6307)

INSTALLATION:
Imperial should be joined and taped and installed in the tackless stripping method with felt and all forms of rubber underlay.

CLEANING AND MAINTENANCE:
Regular vacuum cleaning and spotting of spillages is advisable. When overall onsite cleaning is required, it is then suggested that a reputable company is consulted.

CONSTRUCTION

A Genuine Woven Axminster

PITCH

ROWS

FINISHED TUFT LENGTH

FINISHED PILE HEIGHT

TUFT DENSITY

7 per inch

9 per inch

24/32 inch

.250 inch

63 per sq. inch

27.6 per dm

35.4 per dm

19 mm

6.3 mm

977 per dm

PILE CONTENT

WEFT

WARP

BACKING FINISH

80 % wool / 20 % nylon

Jute

Polyester

Fray-resistant latex compound

TOTAL CARPET WEIGHT

73.03 ozs/sq. yd.

2,481 gms/sq.m.

WEAR RESISTANCE

50,000 revs. on WIRA abrasion machine

APPEARANCE RETENTION

Slight change in appearance after 250,000 revs. on Tetrapod Walker

STATIC ELECTRICITY

This product has a reduced propensity to electric generation

MOTHPROOFING

This product is mothproofed

RECOMMENDED USAGE

Domestic – extra heavy use

Contract – heavy contract use

Guest Corridors

Public Areas

Tests have been carried out on random samples and the above figures are the mean values obtained from these tests. Global Hotel Supply Co., Ltd. reserves the right to amend the above specifications without prior notice.