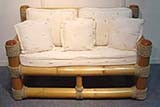 In bamboo furniture designers have discovered a wonderful new raw material, which is well-known for its resistance buoyancy and durability.
Therefore, bamboo is currently replacing many other, more traditional materials in the production of high-quality furniture items.
Bamboo bench
Global Hotel Supply has access to the very best bamboo cane and, together with the cooperation of people who have known bamboo for generations, will supply you with finely crafted pieces of exquisite furniture. We are looking forward to offering you our substantial expertise in the field of interior design and furnishings, as well as the skills of our highly trained and specialised staff.
You can access our catalog of fine bamboo furniture by clicking on the pictures of our bamboo furniture categories here below.
If you should not find the furniture items you require in our web site, please just contact us by e-mail, telephone or fax with your specifications.
We will be glad to custom-manufacture any article you require!